Licensed Basement Renovation Company in Carroll County, MD
From initial quote to complete basement remodel: find out why Carrol County chooses BasementRemodeling.com.
Review Our 900+ Basement Renovation Projects
Our company has displayed a variety of high quality finished basement projects below. You can review our basement designs and see the admirable results our past clients loved. Your basement could be next!
VIEW PORTFOLIO
Professional and reliable basement finishing
Reliable Basement Design Services in Carroll, Maryland.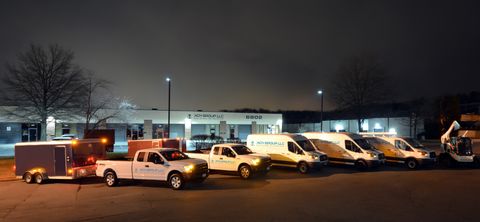 We have multiple warehouse options in Maryland. Our nearest for those who reside in Carroll County is at 8 E Seminary Ave Suite 6, Lutherville-Timonium, MD 21093

When you begin the process for your basement, the best first step is to get an online quote below to get an idea of the price range. Then, as soon as you are ready, schedule a free in-home consultation with one of our project consultants to discuss your vision and sketch out the plans. After that, a reliable team will work with you to begin designing your new basement. Construction begins after your final meetings, and you will begin to see your basement come to life.
Featured on CNBC
BasementRemodeling.com was featured on House Smarts, which was aired on CNBC. This basement is located in Potomac, MD, and was completed by BasementRemodeling.com (ex- Basement Masters) during the Spring of 2019 for Mr. and Mrs. Terlinsky. Our whole team thanks Alan and Joan for the opportunity to make their dream basement come true.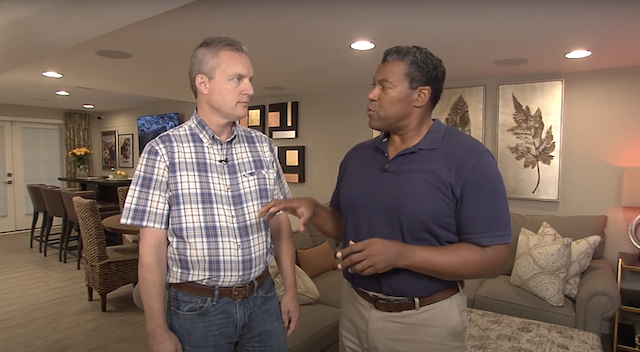 We love our clients and they love us!
Want to know what our past clients have to say about their basement remodeling experiences with BasementRemodeling.com?
MORE REVIEWS
The overwhelmingly positive reception from our clients makes BasementRemodeling.com stand out from other basement remodeling companies in Maryland, Northern Virginia (NOVA) and DC. It definitely means something to us, and we think it should mean something to you, too!
Choose from a Variety of Basement Ideas
Choose from a number of different basement remodeling ideas, depending on your preferences and taste. You can pick between adding a new bathroom, a play area for kids, a music studio, and more. Afterwards, select the style, colors, and the features you want included in your basement remodel. Choose from a number of different room styles like rustic, contemporary, or modern. Think of the wall color, your favorite lighting, types of flooring, and even consider a built-in fireplace! These ideas will you imagine what your basement could become with basementremodeling.com as your basement contractor.
Perfect Basement Remodel for Entertaining your guests - Gaithersburg, MD ,

BasementRemodeling.com

Basement Finishing / Remodeling, Potomac, MD

BasementRemodeling.com

Perfect Basement Remodel for Entertaining your guests - Gaithersburg, MD ,

BasementRemodeling.com

Basement Finishing and Remodeling, Vienna, VA

BasementRemodeling.com
GO TO BASEMENT IDEAS
Top Rated Basement Finishing Contractors in Carroll County
Our team is eager to help you bring your ideas to fruition by delivering the best basement remodeling experience possible. Our Caroll County, Maryland warehouse has all the necessary tools and resources to help you from start to finish of a basement project. We will take care of everything you need from plans and permits to final touches. We want your space to look exactly the way you want - you are involved in every detail and approve every single step of your basement renovation.
If you are from Caroll County but are interested in a more specific location, checkout the works we did in Sykesville or Westminster.
OUR PROCESS