Basement Remodeling and Finishing in Columbia, MD
Basement remodeling services that guarantee quality work and professional staff. We have been in business for 15+ years: we know a thing or two about creating your perfect basement.
900+ Finished basements remodels
Across our many completed basement remodels you can see we take pride in what we do. With hundreds of positive reviews and lots of basement transformations behind our belt, we deliver results you will be satisfied with.
VIEW PORTFOLIO
Professional Basement Remodels for Columbia and Howard County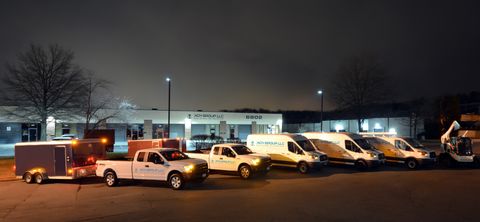 BasementRemodeling.com is the best and highest-rated basement finishing and remodeling contractor in Columbia, MD! We don't just throw the word "best" around, our work speaks for itself! Our strict adherence to quality and excellence has earned us the reputation we have today—and we aim to keep that way. All of our clients have been extremely happy with their basements. Checkout our reviews!
Basement Renovation Ideas to Transform Unfinished Spaces
We have gathered hundreds of basement finishing ideas for you to go through and find inspiration. There are various ways you can transform a basement from upgrading floors to adding complete rooms, such as a bathroom, a bedroom, or a gym!

See if you like any of these basement images, and make sure to let us know about it when you schedule you in-home consultation. We have implemented most of these ideas for our clients, so we can certainly recreate any of them for your basement!
Finished Basement - Luxurious Movie Theatre, Black Siting

BasementRemodeling.com

Basement Finishing - Music Room, Light Walls

BasementRemodeling.com

Basement Remodeling - Movie theater in black

BasementRemodeling.com

Basement Finishing - Beige Bathroom, White vanity, Mirror

BasementRemodeling.com
GO TO BASEMENT IDEAS
Basement Finishing and Remodeling in Columbia, MD
We are transparent with our clients every step of the way - you will be kept in the loop at all times about all aspects of your basement remodel: from the timeline to design materials. Our steps to becoming your basement contractors are outlined in detail below, so you are aware of our workflow.
If you are ready to get started with your basement renovation, schedule your free in-home consultation today, and our project consultatnts will meet you to go over all the details!
OUR PROCESS