Basement Finishing and Remodeling Services in Severn, MD
We are the number one finished basement company in Severn, MD. Get a free quote today!
900+ Projects Completed In and Around Severn, Maryland!
When it comes to finishing and remodeling basements, our basement remodeling company has over 15 years of experience serving Severn, MD, Anne Arundel County, and the surrounding counties. Whether you're looking to add a basement home theater, basement bar, or even a recording space, BasementRemodeling.com ensures your home has the attention it deserves.

Click through our Portfolio below to view some of our completed projects and see how our team can help you achieve all your renovation-related goals!
VIEW PORTFOLIO
Best Basement Renovation Service in Severn, MD and Anne Arundel County!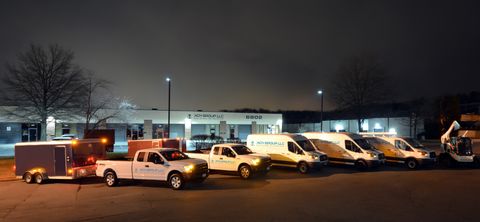 We love working with the local Maryland community and have even been recognized by Houzz and Angie's List for our stellar basement services. Our clients have told us time and time again how much they value our professionalism and efficiency on the job and our company is committed to upholding that reputation.

With our local warehouse situated nearby in Annapolis, MD, we are conveniently able to source any materials you may need for your finished basement project quicker than most.
View Project Inspiration From Completed Basement Renovations.
Some say that good inspiration is the mightiest motivation. After all, your vision for your new space will serve as the creative energy and driving force behind your basement remodel.

Our basement remodeling services have earned a reputation and earned many positive reviews from our customers. Click through photographs and start dreaming up what that dingy, cold, unwelcoming basement could look like (bright, warm, inviting!) when you consult with the best basement renovation company in the industry. Contact BasementRemodeling.com today!
Finished Basement - Luxurious Movie Theatre, Black Siting

BasementRemodeling.com

Basement Finishing - Music Room, Light Walls

BasementRemodeling.com

Basement Remodeling - Movie theater in black

BasementRemodeling.com

Basement Finishing - Beige Bathroom, White vanity, Mirror

BasementRemodeling.com
GO TO BASEMENT IDEAS
The Ultimate Basement Finishing and Remodeling Services in Severn, MD
Friends of Anne Arundel County and the surrounding area, our team is excited to work with you! Get connected with an award-winning basement finishing and remodeling contractor today, it's our goal to maximize your budget. We know how important the planning and preparation process is to achieve a great final product. Our team is happy to speak with you one-on-one prior to any contracts or any payments.

Our process is simple, straightforward, and it's easy to get started as soon as today. Use our Get Online Quote tool, and you will receive a personalized quote (sent to your email) in just minutes for your perusal!
OUR PROCESS