Basement Finishing and Remodeling in Crofton, MD
We are a family-owned Basement Renovating and Finishing company serving Crofton and Anne Arundel County (and beyond!). We offer a professional and personable solution to all of your basement remodeling needs!
Building Better Basements Since 2006!
Our basement remodeling company has over a decade of experience and has won many awards during that time too. Experience a basement finishing company with a massive portfolio of roughly 400 completed basement transformations in and around Anne Arundel County. We hope our work not only helps to inspire your next home improvement project, but also that it stands as a testament to the phenomenal work our team is able to deliver time and time again!
VIEW PORTFOLIO
Why You'll Be 100% Satisfied With Your Basement
Local Warehouses Close to You!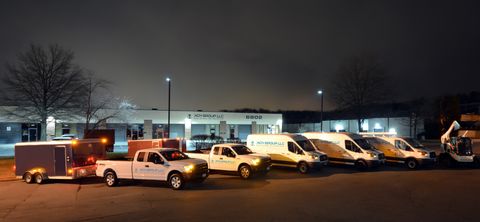 Our Crofton, MD clients will find our nearest local warehouse serving Anne Arundel County conveniently located at 10 Severn Ave suite 28 Building 13, Annapolis, MD 21403.

Locally situated warehouses ensure efficiency with your project - they mean less wait time for you, less worry, and less stress!

While basement renovation can seem like a daunting task, getting started with BasementRemodeling.com is easy and straightforward. Not to mention that our team will be here to support you every step of the way. If you are looking to speak with a Maryland representative directly, please call us at 443-424-2425.
Featured on CNBC
BasementRemodeling.com was featured on House Smarts, which was aired on CNBC. This basement is located in Potomac, MD, and was completed by BasementRemodeling.com (ex- Basement Masters) during the Spring of 2019 for Mr. and Mrs. Terlinsky. Our whole team thanks Alan and Joan for the opportunity to make their dream basement come true.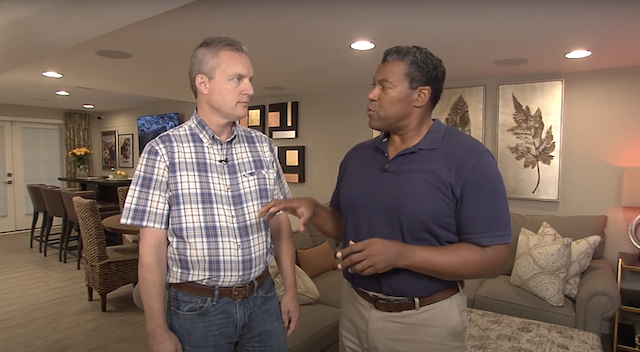 We love our clients and they love us!
Want to know what our past clients have to say about their basement remodeling experiences with BasementRemodeling.com?
MORE REVIEWS
The overwhelmingly positive reception from our clients makes BasementRemodeling.com stand out from other basement remodeling companies in Maryland, Northern Virginia (NOVA) and DC. It definitely means something to us, and we think it should mean something to you, too!
Rec Rooms and Wet Bars and Gyms, Oh My!
That's right. With over 15 years of experience in basement remodeling and renovation, we've seen our share of unique and exciting basements. From at-home movie theaters to music rooms, we've transformed basements into pretty much any type of facility you can dream up! At our finished basement company, we encourage our clients to think big. After all, your new space is for making memories and we want it to last you a lifetime! If you know some of the specifics of your basement (size and any unique features), you can use our Online Quote Tool to estimate the expense of your project. We will take into consideration items like high ceilings, any necessary demolition, and your overall vision for the space. For example, are you thinking of finally adding that commodious bathroom to your downstairs? What about a kitchenette or wet bar? Let us know, we can make it happen!

Click through the categories below to see what we've done for others, and browse through the possibilities. Once ready, schedule your in-home consultation and your basement remodel will be underway!
Perfect Basement Remodel for Entertaining your guests - Gaithersburg, MD ,

BasementRemodeling.com

Basement Finishing / Remodeling, Potomac, MD

BasementRemodeling.com

Perfect Basement Remodel for Entertaining your guests - Gaithersburg, MD ,

BasementRemodeling.com

Basement Finishing and Remodeling, Vienna, VA

BasementRemodeling.com
GO TO BASEMENT IDEAS
Proudly Serving Crofton, MD and Surrounding Anne Arundel County Area
If you are looking for informed, masterful basement renovation services in the Crofton, MD area, look no further than our local finished basement company. We are the basement remodeling contractors that are always available in Anne Arundel County! We want to ensure that your renovation is pain-free, hassle-free, and transparent 100% of the way.

Click the "Learn More" button below to explore some of our prior projects that took place in your area.
OUR PROCESS