BasementRemodeling.com - the most trusted name in the industry
A professional and organized approach to your basement finishing or remodeling project in Maryland, Northern Virginia (NOVA) and Washington DC from a local family-owned company
Hundreds of Basements Finished
Check out our recent projects above or visit our portfolio to review all of the basements we remodeled during our 10 years in the industry.
VIEW PORTFOLIO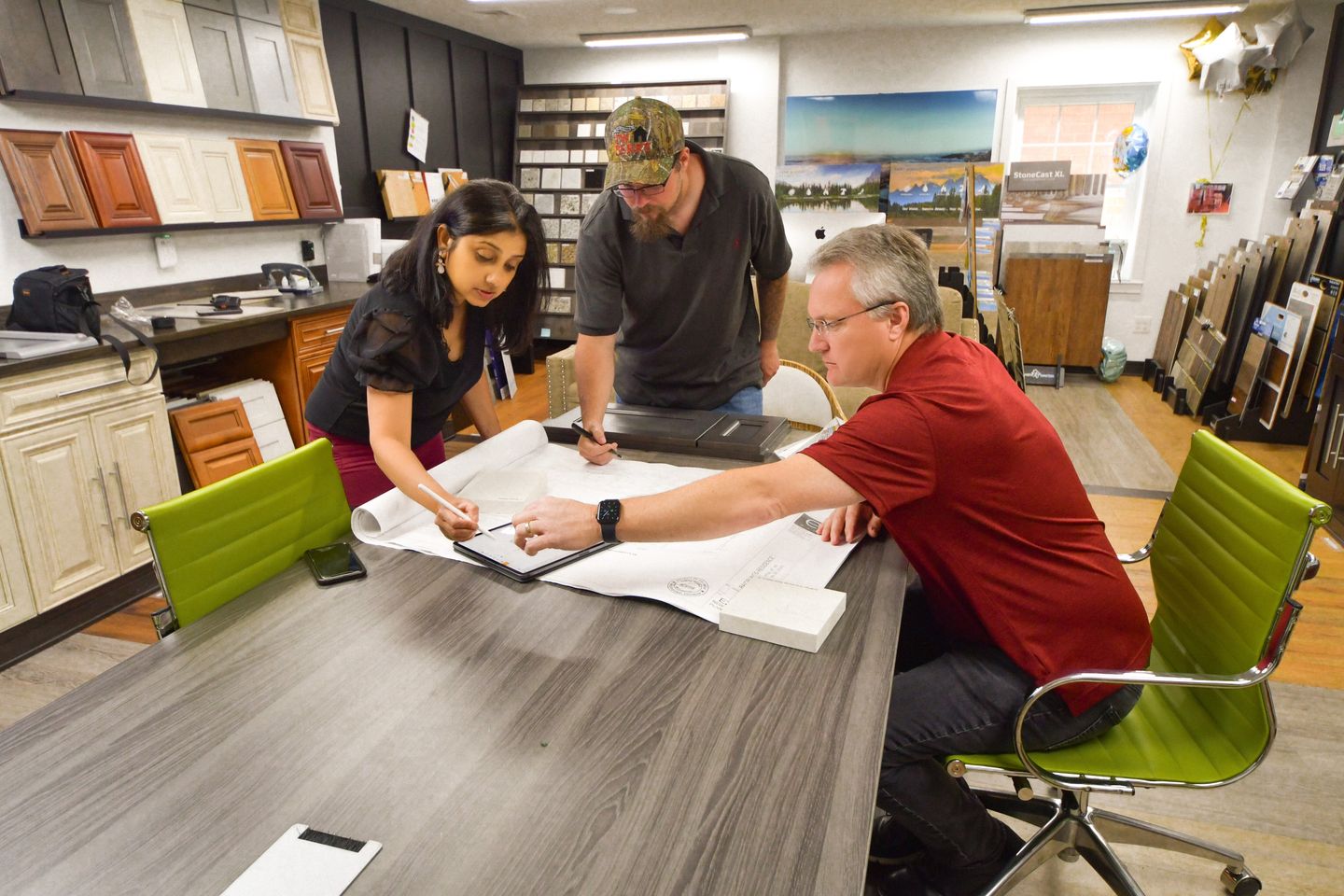 Our News
January, 4th 2022
As we continue to monitor the situation regarding the omicron variant of COVID-19, we would like to inform you that all possible precautionary measures are currently being put into effect. To ensure the health of our customers, employees, and indirect staff, we ask everyone to stay vigilant during this time.
Featured on CNBC
BasementRemodeling.com was featured on House Smarts, which was aired on CNBC. This basement is located in Potomac, MD, and was completed by BasementRemodeling.com (ex- Basement Masters) during the Spring of 2019 for Mr. and Mrs. Terlinsky. Our whole team thanks Alan and Joan for the opportunity to make their dream basement come true.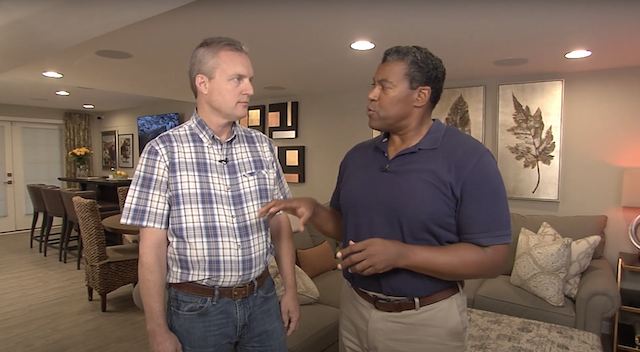 We love our clients and they love us!
Want to know what our past clients have to say about their basement remodeling experiences with BasementRemodeling.com?
MORE REVIEWS
The overwhelmingly positive reception from our clients makes BasementRemodeling.com stand out from other basement remodeling companies in Maryland, Northern Virginia (NOVA) and DC. It definitely means something to us, and we think it should mean something to you, too!
Awards
BasementRemodeling.com is an award-winning basement remodeling and finishing company and one of the top remodeling companies in Maryland, DC, and Northern Virginia (NOVA).
Look what you can have in your basement
Get inspired with our Basement Ideas and save the best of them to your own collection.
Finished Basement - Luxurious Movie Theatre, Black Siting

BasementRemodeling.com

Basement Finishing - Music Room, Light Walls

BasementRemodeling.com

Basement Remodeling - Movie theater in black

BasementRemodeling.com

Basement Finishing - Beige Bathroom, White vanity, Mirror

BasementRemodeling.com
GO TO BASEMENT IDEAS
Basement Design and 3D Visualization
Let our design software technicians help you visualize your future space with 3D generations of beautiful basement design plans. Take a look at some of our most recent 3D visualization basement remodeling and basement finishing projects below.
Upfront Transparent Predetermined Pricing for Every Client
We have an upfront and transparent pricing policy. There will never be any unexpected spendings and you will always stay on top of your budget.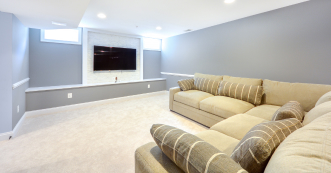 Basic 1000 sq.ft. basement
Planning and permits
Framing for rooms and closets
Lighting and outlets
HVAC
Drywall installation and finishing
Doors, trim and hardware
Flooring (carpet)
Painting
~$40,000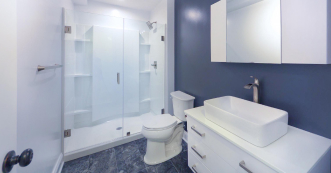 Basic Bathroom Addon
Framing
Plumbing w/o groundwork
Lighting, outlets, exhaust fan
Greenboard installation and finishing
Shower/tub enclosure by kohler
Door, trim and hardware
Tiled flooring
Vanity cabinet and Toilet
~$9,000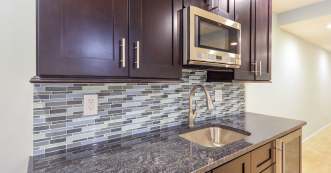 Basic Kitchennete Addon
Sink and faucet plumbing
GFCI outlets
Cabinets installation
Hardware
Countertop with sink
Undercounter fridge
Other appliances, backsplash
~$8,000
Our Professional Project Management Approach
Get an estimated cost to finish the basement

Initial in-home consultation

Visit our showroom (optional)

Design & final costs consultation via zoom

Project preparation &

pre-construction

meeting
At BasementRemodeling.com, we have a unique project management approach to make sure every basement remodel is completed in a timely fashion with quality results. With an exceptionally organized timeline, we know precisely what is going on at the job site every single day, without fail. Unlike other basement remodeling companies, our process is completely transparent! Take a look at our basement remodeling timeline below to see just how informed you'll be through every step of the way.
Preparations and permits

ROUGH-IN/Framing

Plumbing

Electrical rough-in

Sprinklers (fire protection)

Insulation

Inspections

Drywall installation

Drywall finishing

Painting

Doors and trims install

Wetbar/kitchenette cabinets install

Tiles installation

Painting

Electrcial (outlets/switches install)

LVT installation

Painting countertop/frameless glass/enclosure installation

Bathroom completion

Final electrcial (outlets / swithes plates and lights install)

Final details completion

Inspections

Carpet installation

Paint touch-ups

Quality control
Why Choose BasementRemodeling.com
We are different than other basement remodeling companies:
OUR COMPANY
UNRELIABLE COMPANIES
Welcomes you to our office
We always invite you to our office, where we can properly discuss all the details of your project face-to-face over a friendly cup of coffee.
Won't invite you into their office
There may not even be an office, which means that the work is done on the fly". This usually means the basement contractor will be hard to find if (and when) something goes wrong.
Has all necessary documentation
We are a fully insured basement contractor for Washington DC, Maryland and Virginia. See our licenses and insurance certification at the top of our homepage for more information.
Have little-to-no legal documentation
If a basement remodeling company cannot show their licenses, insurance certification, or other important documentation, it simply means they don't have it.
Has workers' compensation insurance
We carry workers' compensation insurance. We collect all necessary insurance certificates from all of our subcontractors, and everyone involved with your project is covered by this insurance.
Have no workers' compensation insurance
If you like unreasonable risks, then go ahead and hire a contractor without proper workers' compensation insurance.
Will only hire professionals
We have strong and sustainable relationships with subcontractors, which leads to confidence in project planning and implementation.
Hire unqualified staff
Many basement construction companies appeal to unskilled laborers and unreliable subcontractors to save money. Only after they have left will you notice their shoddy work.
A rigid schedule in real time
Our basement contracting reputation is everything to us. As such, we can accurately determine your basement remodeling project's completion date with no surprises or hidden fees.
Purposefully underestimate deadlines
Some basement contractors will agree quickly to any timeline just to get the job. Afterwards, however, all you hear are excuses about delays that will cost you time and money.
Is always in touch
From signing the contract to final touches, we are a basement remodeling company that's always available on the phone and by e-mail.
Are inaccessible
A hard-to-reach basement company won't pick up the phone or answer e-mails.
Want to learn more about how to find a contractor?
Check our Contractor FAQ
Licenses and Insurance
BasementRemodeling.com is a fully licensed and insured basement contractor in Maryland, Washington DC and Virginia. Our Virginia Class A Contractor License (VA Class A) number is 2705159425, our Maryland Home Improvement Commission License (MHIC) number is 129172 and our DC Class A Contractor License (DC Class A) number is 410516000631. We have posted copies of our basement remodeling licenses and insurance certificates below. Please note: any basement finishing or remodeling project requires a separate set of permits which should be pulled by a licensed contractor/electrician/plumber etc. You can easily check any contractors license here: